unique technology. unique benefits.
Ranging from 0.5m to 5m in length to suit your application. Front or rear facing junction box options with 40kg twist strength connections
15 – 18 % efficiency. Vents not required as CIGS does not generate heat as a by-product
No wind drag or loss of MPG – only 1.77mm thick (3mm bonded). Less than 3kg per m2
Simple peel & stick, plug & play panels, with no drilling or racking required. Self cleaning EFTE non-stick coating (Teflon like) ensures panels remain clean and operational
Bypass diodes installed in every pair of cells – so shadow/shading minimally effects power generation 
No glass or silicone so no micro-fractures caused by vibrations or impacts. Comprehensive warrantees are available for each application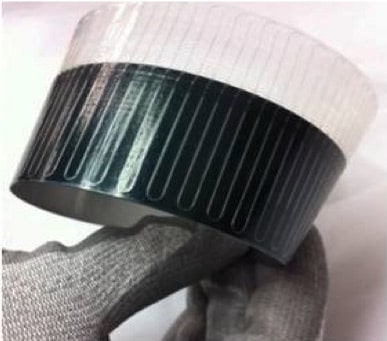 We are the designers and manufacturers of our technology and work with our clients to specify and create the right module for their needs. We can construct solar panels in a range of lengths & widths to suit a myriad of vehicle's and outputs.
MIPV uses CIGS technology (Copper Indium Gallium Selenide), thin-film solar cells to convert sunlight to energy. They differ from traditional crystalline based Solar  Photovoltaic systems (PV) which use heavier bulkier solar photovoltaic panels. As a result no additional support/racking is required, and fitting is by just a simple peel and stick application with no drilling etc. As our panels are not 'glass like' they are shatterproof and flexible. Multiple diodes & cell interconnections avoid a disproportionate loss of output when shaded – unlike 'traditional' solar modules.  Paired with our EFTE non-stick top sheet, our panels remain clean and operational with no maintenance required.
MIPV is the new generation of solar, get in touch to see how you can join the frontline of technology.
showcasing the next generation of solar technology
How does MIPV technology operate in shading compared to traditional solar?